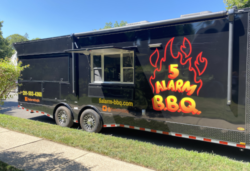 5 Alarm BBQ Covid-19 Safety Measures
First and foremost, we hope that you and your family are safe and doing well.  We have always strictly followed health and safety guidelines and are Serve Safe certified. During these times, we have increased our cleaning protocols over and above what is required, adding more frequent and rigorous cleaning as well as disinfecting every half hour.  Employee temperature checks occur before every event and we ensure all staff have proper PPE.
Our trailer is unique, it has a vending window.  This allows us to offer you an alternative to the traditional BBQ buffet, we can serve you and your guests individually through the window. Our staff will prepare each plate to order and pass the ready to enjoy meal to each of your guests. We will serve using disposable plates and cutlery. During these uncertain times, we look forward to working with you, whichever option you choose, to make sure that you and your guests have a memorable and safe BBQ experience.
We would like to thank you for your continued support and confidence in us as we go forward and navigate the "new normal."
How to Plan Your BBQ?
The Best Party
You want to throw a BBQ for your closest family and friends.
First, you need an amazing BBQ. The best BBQ you can find. The last thing you want to do is throw on an apron, light up your grill, and serve mediocre food, right? This party needs an authentic BBQ. Sweet baby back ribs, tender BBQ beef, and smoked chicken. And don't forget your sides. How about an unbeatable macaroni salad, BBQ brown sugar baked beans, smoked collard greens or sweet buttery corn on the cob?
But this party needs more than great BBQ. You want to create an entire BBQ experience…without having to do the work. You want someone to set everything up. You want to enjoy your party as much as your guests.
5 Alarm BBQ understands and will handle everything from preparing the food to setting up the buffet tables with all the fix-ins.
5 Alarm BBQ and Pitmaster Curtis Barnes are the answer you're looking for.
Sit back, relax, you and your guests mingle, eat finger-licking BBQ and listen to good music because 5 Alarm BBQ is ready to create a delicious and memorable BBQ experience.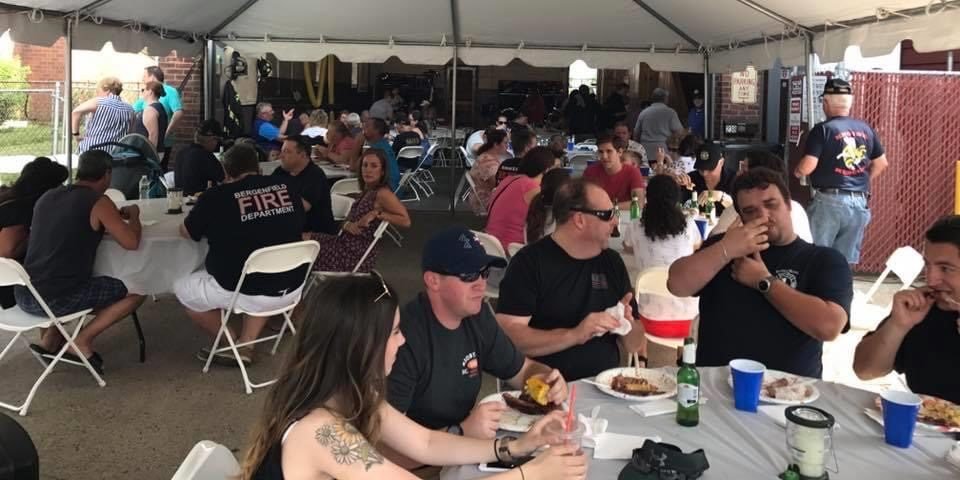 After your BBQ, you won't be the only one who had a great time. How will it feel to know you've thrown the best BBQ party your guests have ever had? Sounds like a tall order, but it's our everyday job.
Are you ready?
At 5 Alarm BBQ, our passion is bringing the best BBQ to you.
For more information, fill out the form below and book your BBQ party now!
Our Customers Say
TESTIMONIALS
5 Alarm BBQ catered our Bridal Party Celebration of 45 people. This has been the talk of the town as to how the Food was outstanding. The Food was delivered on time, the presentation was outstanding, and the Food was awesome/ Delicious/outstanding. I am getting phone calls in December about how good the food was at the Bridal Party.Curtis and your Team Thank you for a outstanding Job Well done, I will be calling for your service again soon. Thank you,
Diane & Cory
- Diane & Cory
The bbq chicken and ribs were so delicious. My guests enjoyed the food and the party was a breeze with Curtis doing the set up and cleanup of the food.
- Jen D
I attended an event catered by 5 alarm barbeque in New Jersey. To say this is the best tasting barbque I have ever had would be an understatement. Everything from the pulled pork to the brisket to even the chicken breast was amazing! I highly recommend Curtis and his team.
- BJ Ogunleye
Definitely the best BBQ in the area. My favorite is their Brisket it is unbelievable, perfect smoke flavor, juicy and tender. Could have asked for a better experience BBQ was excellent and service was top notch. I will definitely be using 5 Alarm Backyard BBQ again for my next party.
- Don DeVera
5 Alarm catered our movie shoot in Middletown NY, and our cast and crew fell in love with his wide range of delicious foods, Some of our crew only eats fish, and 5 alarm had some of the best fish we ever tasted.
- Joyce and Victor Davis