About
WE SPECIALIZE IN AUTHENTIC SOUTHERN STYLE BBQ
For as long as I can remember I've had a passion for cooking and making good BBQ is my specialty.  I began by preparing BBQ for my colleagues at the Firehouse and their rave reviews prompted me to purchase my first Weber Smokey Mountain cooker.  The more I barbequed, the more passionate I became, I knew I wanted to master barbeque.  I enrolled in several renowned BBQ cook schools throughout the US.  After completing classes in varied BBQ techniques, I was encouraged and motivated to start my own BBQ competition team.  In order to master exactly what the judges were looking for, I became a member of the Kansas City Barbeque Society (KCBS).  I attended a judging course with KCBS and qualified as a certified BBQ judge.  So, believe me when I say, "I know what authentic BBQ should taste like."
Although I have not lost my enthusiasm for competition BBQ, I more so enjoy sharing my BBQ with others who love good, authentic, southern style BBQ.  Thus, the birth of our family-owned and operated 5 Alarm BBQ business.  Let us treat you to a genuine southern-style barbeque with all the fixings!
Your friends and family will thank you.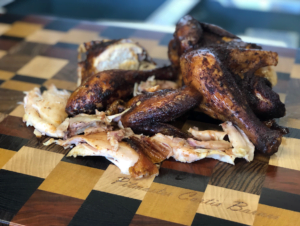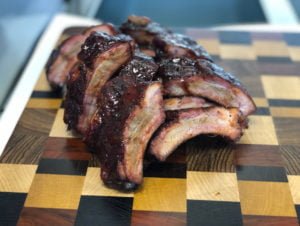 Our Customers Say
TESTIMONIALS
5 Alarm BBQ catered our Bridal Party Celebration of 45 people. This has been the talk of the town as to how the Food was outstanding. The Food was delivered on time, the presentation was outstanding, and the Food was awesome/ Delicious/outstanding. I am getting phone calls in December about how good the food was at the Bridal Party.Curtis and your Team Thank you for a outstanding Job Well done, I will be calling for your service again soon. Thank you,
Diane & Cory
- Diane & Cory
The bbq chicken and ribs were so delicious. My guests enjoyed the food and the party was a breeze with Curtis doing the set up and cleanup of the food.
- Jen D
I attended an event catered by 5 alarm barbeque in New Jersey. To say this is the best tasting barbque I have ever had would be an understatement. Everything from the pulled pork to the brisket to even the chicken breast was amazing! I highly recommend Curtis and his team.
- BJ Ogunleye
Definitely the best BBQ in the area. My favorite is their Brisket it is unbelievable, perfect smoke flavor, juicy and tender. Could have asked for a better experience BBQ was excellent and service was top notch. I will definitely be using 5 Alarm Backyard BBQ again for my next party.
- Don DeVera
5 Alarm catered our movie shoot in Middletown NY, and our cast and crew fell in love with his wide range of delicious foods, Some of our crew only eats fish, and 5 alarm had some of the best fish we ever tasted.
- Joyce and Victor Davis